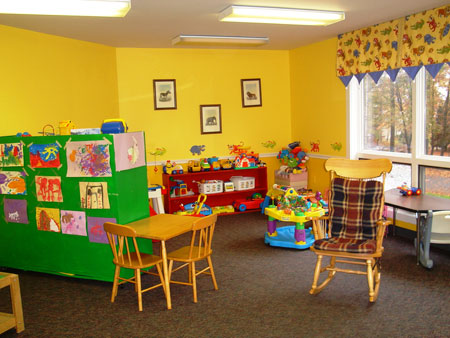 Summit's nursery is one of the first things the families with young children notice when they visit Summit for the first time. It is bright and cheerful, decorated in the theme of animals living in harmony in God's creation. Our families appreciate the opportunity to be able to leave their young children in the safe care of a well-supervised, clean, and cheerful environment while they are attending a Christian education class, the Sunday morning worship service, weekly Bible study, and/or other church events.
Staffed by volunteers who love children, with help from a well-trained high school student, our nursery cares for children ranging from infants up through the age of three years. During the time that children are in our care, our volunteers enjoy reading Bible stories, teaching children about Jesus' love, and fostering a sharing and caring relationship with one another.
Upon arrival, parents are asked to complete a registration form.
We invite you to visit the Summit nursery at your convenience and we look forward to meeting your little ones!